ENC Elections - Ballot Request Period Now Open!
Posted on 03/14/2021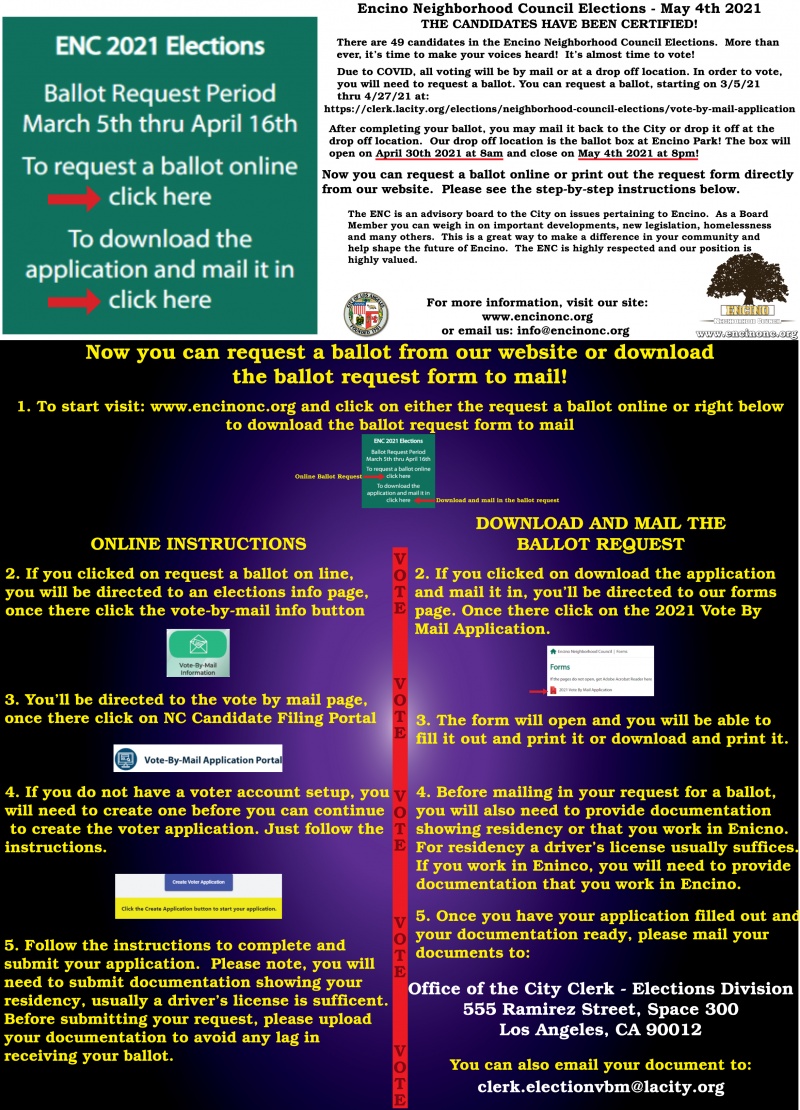 Encino Neighborhood Council Elections - Ballot Request Period Now OPEN!

Hey Encino! The candidates have been certified and have started campaigning! Now it's time to request a ballot. This year, due to Covid-19, all voting will be by mail or at our drop-off location at Encino Park. You will have to request a ballot in order to vote for the candidates. Ballot requests have started and will close on April 27th!

Don't delay and request your ballot. You can request a ballot at: https://clerk.lacity.org/elections/neighborhood-council-elections/vote-by-mail-application Once there click on the vote by mail portal, create an account and follow the instructions. You can now request a ballot directly from the Encino Neighborhood Council's website.

Visit www.encinonc.org and look for our elections button on the home page. From there you can click to request your ballot online OR download the request form and either email it back or send it regular mail!! Please see the attached flyer with step-by-step instructions on how to request a ballot from the ENC's site! In ADDITION to completing your ballot request form, you will need to submit proof of residency so you receive the correct ballot. Usually, a copy of your driver's license suffices.

Voting in the neighborhood council elections gives you a voice in your community. We advise the City on all topics. We have 49 candidates for the upcoming election...many current board members are running again and there are many new faces. It's critical that you vote in the upcoming election - the ENC shapes the future of Encino for many years to come. Don't delay, request your ballot ASAP. Once you receive your ballot and complete it, you can either mail it back to the City or drop it off at the voter box in Encino Park! The box will open at 8am on April 30th and close at 8pm on May 4th! Participation in local elections is the key to the well-being of your community! Request your ballot today!

Save the date for our candidate forum - we have tentatively scheduled a candidate forum for April 12th at 6:30pm! Our site will be updated once the date is confirmed!!