THE ENCINO NEIGHBORHOOD COUNCIL
(ENC)


The ENC will provide an inclusive open forum for public discussion of issues concerning the community of Encino. Working with respect and dignity of expression of all viewpoints, free from harrassment, for all individuals and groups involved in Encino.
The Encino Neighborhood Council (ENC) is managed by a governing body comprised of elected volunteers from Encino. The ENC was designed to give stakeholders, who are residents, businessowners, employees, members of organizations, and other community members a forum for addressing issues important to Encino. The ENC, formerly known as the Encino Community Council, was certified by the City of Los Angeles on October 8, 2002, and the first election of the Board was held in July 2003.
The ENC General Council Meetings are usually held at 7:00pm on the fourth Wednesday of each month (with the exception of holiday schedules). Meetings are typically held at the Encino Community Center, located at 4935 Balboa Boulevard, Encino, CA 91316. Light refreshments with a meet and greet begin at 6:30pm. Please note the location + date/time are subject to change, and to check the website and/or agenda posted to verify location + date/time.
Meetings are open to the public and give stakeholders the opportunity to ask questions, comment, and get more information about local developments, including getting more involved with the ENC. In addition to the General Board Meetings, the ENC has many focused committees which meet to discuss various specific neighborhood issues--stakeholders are encouraged to join these committees (seats are based on availability). All ENC committee meetings are open to the public. To find out more information about ENC committees and meetings, please visit the Committees and/or Calendar section of the website.
(Scroll Down to View ENC Board Representatives)
Subscribe and receive ENC meeting agendas online from the
City of Los Angeles Early Notification System by signing up at:
Encino!
Your Neighborhood! ​Your City! Your Voice!
Help Make Encino Neighborhood Council Truly Reflective of Our Community
Get Involved with the Encino Neighborhood Council
Together We Can Make Our Community a Better Place to Live, Work, and Play
***
"Our lives begin to end the day we become silent about things that matter."
-Martin Luther King Jr.
***
"Never doubt that a small group of thoughtful, committed, citizens can change the world. Indeed, it is the only thing that ever has."
-Margaret Mead
***
Encino Neighborhood Council (ENC) Boundaries
North - Victory Boulevard, South - Mulholland Drive, East - the 405 Freeway, West -Lindley Avenue to its terminus, then extends southwest (around the terminus of Lake Encino Drive), then southwest following the 91356/91316 zip code boundary (where the Avenida Orienta fire road meets Mulholland Drive)
For more information please email: [email protected], or call 747-282-0450
To contact an ENC Board Member please use the email addresses provided below, or [email protected]

ENCINO NEIGHBORHOOD COUNCIL EXECUTIVE COMMITTEE MEMBERS
President: Alex Garay
Email: [email protected]
Vice President: Victoria Miller
Email: [email protected]
Treasurer: Patricia Bates
Email: [email protected]
Secretary: Laure Stevens
Email: [email protected]
Sergeant at Arms: Henry Eshelman
Email: [email protected]

ELECTED REPRESENTATIVES AND ALTERNATES
The following positions are elected by eligible stakeholders during general elections or appointed by the ENC General Board at a General Board Meeting to fill a vacancy
-Apartment/Condo
Representative: Alex Garay -Email: [email protected]
Alternate: Vacant
-At-Large (2 Seats)
Representative 1: Henry Eshelman -Email: [email protected]
Representative 2: Heather Michaels -Email: [email protected]
Alternate 1: Lissa Morrow
Alternate 2: Vacant

-Business (2 Seats)
Representative 1: Victoria Miller -Email: [email protected]
Representative 2: Kelvin Tolbert -Email: [email protected]
Alternate 1: Daniel Kashani -Email: [email protected]
Alternate 2: Vacant
-Education
Representative: Toyia Jackson
Alternate: Vacant
-Park Advocate/Environment
Representative: Glenn Bailey -Email: [email protected]
Alternate: Vacant

-Planning and Land Use
Representative: Matthew May -Email: [email protected]

Alternate: Athena Novak -Email: [email protected]
-Public Safety
Representative: Samuel Apikyan -Email: [email protected]
Alternate: Vacant

-Religious Organization/Institution
Representative: Anni Keusseyan -Email: [email protected]
Alternate: Vacant

-Volunteer
Representative: Patricia Bates -Email: [email protected]
Alternate: Vacant

*-Youth (Non-Voting)
*The Youth Representative must be aged between 14-17 years old, and live in Encino. The Youth Representative is appointed by a majority vote of the ENC General Board at a General Board Meeting. The individual serving in this role does not count toward the quorum, nor vote tally. Note there is no Alternate seat for this position
Representative: Vacant
ELECTED AREA REPRESENTATIVES AND ALTERNATES
Area Representatives are elected at general elections by stakeholders who live within each area's boundaries or are appointed by the ENC General Board at a General Board Meeting to fill a vacancy (scroll down to view ENC "Areas" Map)
-Area 1
Boundaries: Victory Boulevard, (N), Burbank Boulevard (S), Lindley Avenue (W), Balboa Boulevard (E)
Representative: Joshua Sauter -Email: [email protected]
Alternate: Dana Frances Caruso -Email: [email protected]

-Area 2
Boundaries: Victory Boulevard (N), Ventura Boulevard (S), Balboa Boulevard (W), the 405 Freeway (E)
Representative: Vacant
Alternate: Vacant

-Area 3
Boundaries: Burbank Boulevard, (N), Ventura Boulevard (S), Lindley Avenue (W), White Oak Avenue (E)
Representative: Vacant
Alternate: Vacant

-Area 4
Boundaries: Burbank Boulevard (N), Ventura Boulevard (S), White Oak Avenue (W), Balboa Boulevard (E)
Representative: Robert Wenger -Email: [email protected]
Alternate: Vacant

-Area 5
Boundaries: Ventura Boulevard (N), Mulholland Drive (S), Lindley Avenue to its terminus, extends southwest (around the terminus of Lake Encino Drive), then southwest following the 91356/91316 zip code boundary (where the Avenida Orienta fire road meet Mulholland Drive), (W) Louise Avenue to its terminus, then a line due south to Mulholland Drive (E)
Representative: Diane Rosen
Alternate: Vacant
-Area 6
Boundaries: Louise Avenue to its terminus, then a line due south to Mulholland Drive (W), Libbit Avenue, Noeline Avenue, Darcia Place, Garvin Drive, Lanai Road, Hayvenhurst Drive, Ballina Drive, Ballina Canyon Road, Westfall Drive, Dellvale Place, Calneva Drive (E)
Representative: Laure Stevens -Email: [email protected]
Alternate: Roy Nwaisser -Email: [email protected]
-Area 7
Boundaries: Ventura Boulevard (N), Mulholland Drive (S), Libbit Avenue, Noeline Avenue, Darcia Place, Garvin Drive, Lanai Road, Hayvenhurst Drive, Ballina Drive, Ballina Canyon Road, Westfall Drive, Dellvale Place, Calneva Drive (W), the 405 Freeway (E)
Representative: Andrew Zucker
Alternate: Vacant

APPOINTED SELECTED ORGANIZATION REPRESENTATIVES AND ALTERNATES
Per the ENC Bylaws there are three selected organizations (Encino Chamber of Commerce, Encino Property Owners Association, Homeowners of Encino) who retain permanant seats for a represtnative + alternate on the ENC. The following positions are elected and appointed by the Board of each organization, and are NOT elected during the general elections, nor appointed by the ENC Board
-Encino Chamber of Commerce
Representative: TBA
Alternate: TBA

-Encino Property Owners Association (EPOA)
Representative: Laurie Kelson -Email: [email protected]
Alternate: TBA
-Homeowners of Encino (HOME)
Representative: TBA
Alternate: TBA

Encino Neighborhood Council (ENC) Boundaries
North - Victory Boulevard, South - Mulholland Drive, East - the 405 Freeway, West -Lindley Avenue to its terminus, then extends southwest (around the terminus of Lake Encino Drive), then southwest following the 91356/91316 zip code boundary (where the Avenida Orienta fire road meets Mulholland Drive)
ENC "Areas" Map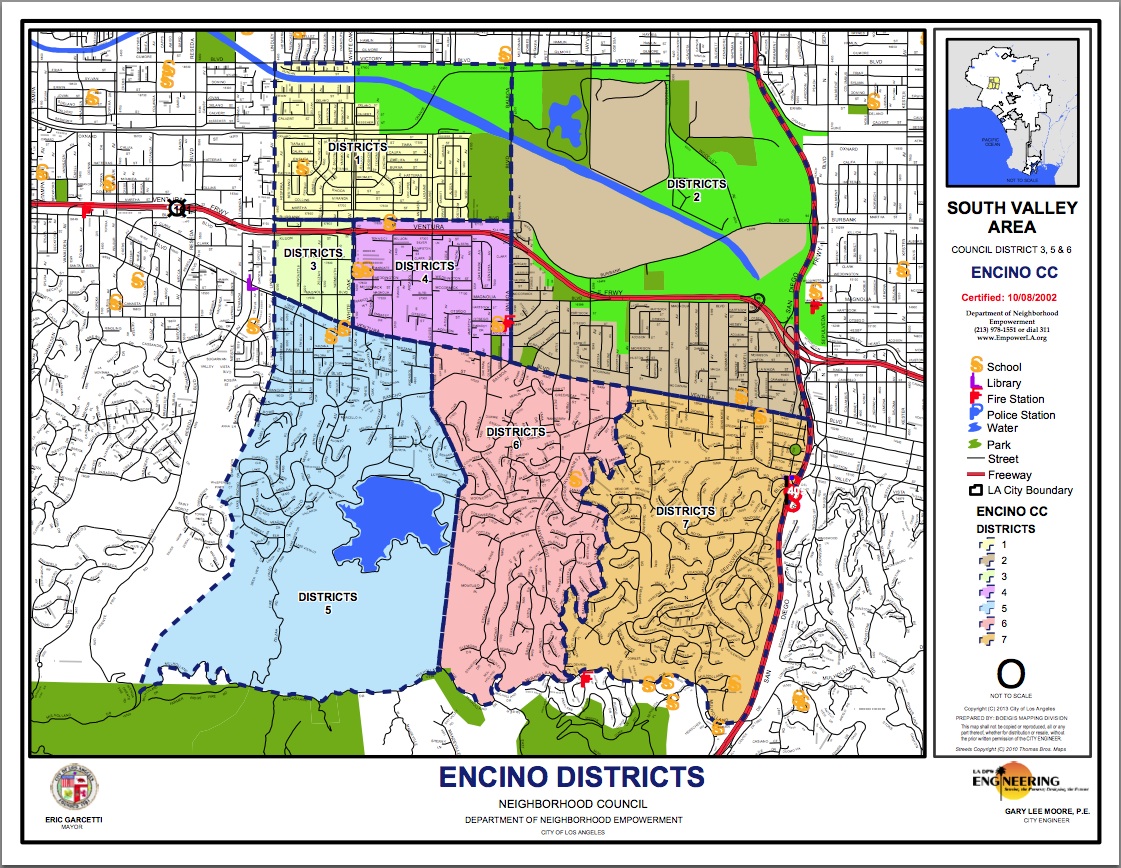 More from Encino Neighborhood Council