2022 HOMELESS COUNT IN ENCINO-VOLUNTEERS NEEDED!
Posted on 01/14/2022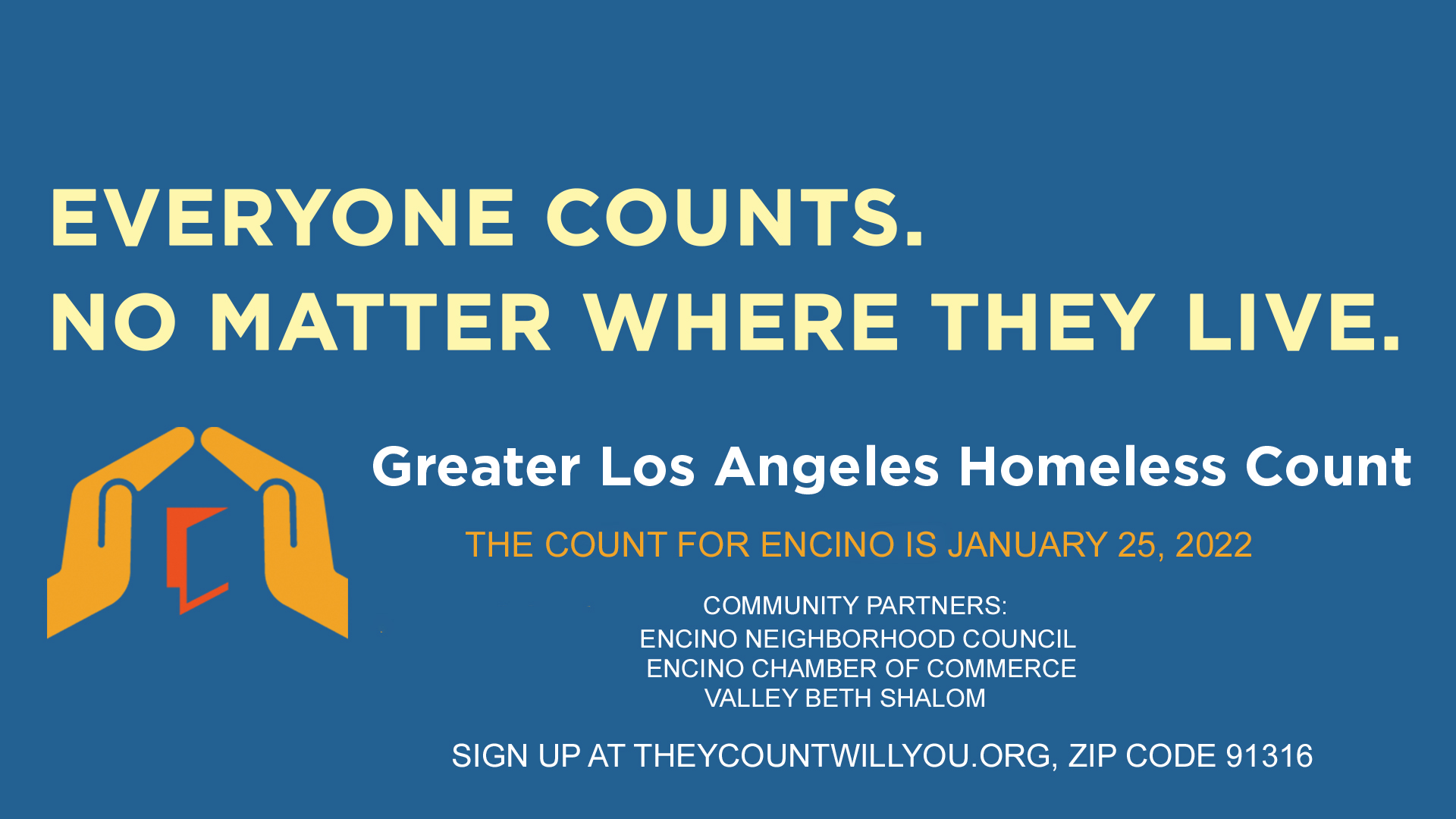 Volunteers are needed for the 2022 Greater Los Angeles Homeless Count in Encino, the evening of February 22, 2022. Please sign up at https://www.theycountwillyou.org/, enter 91316 for the Zip code. Select the option for 91316 Van Nuys, CA USA. You will be directed to a form to fill in for the Encino Count. We strongly encourage people to sign up as a "team" with a family member or friend(s) due to the COVID. We do not know what the situation will be on 2/22/2022, but it is unlikely that people will be able to group up at the deployment site as was done in the past. We hope thi situation is improved by that time. The staging area will be at the Encino Community Center, 4935 Balboa Blvd.
If you have never done the count before, here's a little information. Most of the counting is done from vehicles, with each vehicle assigned to a different census block or tract. The volunteers may either drive, spot, or record sightings. This year a phone-based app will be used instead of the usual checklists.
Here's some more information from the Everyone Home site:
PURPOSE of the Point in Time Homeless Count:
Every two years, the US Department of Housing and Urban Development (HUD) requires communities to conduct a Point-in-Time (PIT) Count of individuals, youth, and families experiencing homelessness and provide accompanying data. A "snapshot" of homelessness (both sheltered and unsheltered) in our community and nationally. Locally, the data helps:
Inform program, policy, funding, and system design decisions
Measure progress in decreasing homelessness
Increase public awareness
Advocate for additional resources in our effort to end homelessness countywide.
How this Count will be Different:
The Encino (and all of SPA 2) count is scheduled for February 22,, 2022 at 8 pm; this count is significant since the January 2021 count was not done due to COVID-19. This upcoming count is different than in years past as it will rely more on technology for recruitment, training, deployment of volunteers, and reporting of data to minimize exposure to COVID. A successful count is dependent on community participation; however, volunteers will not be randomly placed together as in previous years. It is hoped that volunteers who know each other, workgroups, or family groups will volunteer together as "social pods".